Description
Whether you promote honeymoons through your office, online or at wedding fayres, the Panndorah gift list is a fantastic tool that will bring you new business and help couples fund their honeymoon.
Since most couple live together, this service avoids the awkwardness of them asking guests for money as wedding gifts. There are no upfront fees for your clients and the service is easy for you to use and for your clients to manage.
Once honeymooners download the app on their device, they can view their list, see gift donations and receive messages from their guests. They can share photos and messages, store their documents and add useful links.
It is a unique and efficient service promoting your business and providing up to date information giving honeymooners exactly what they want in one neat app on their mobile devices.
You will need to upload a copy of the couple's invoice to secure and protect all payments which are held in the 'Panndorah' travel trust account. Funds are fully reimbursed to your clients when they travel, minus any fees advised.
You also have the opportunity to cover the cost of the service and even earn extra commission if you advertise your local suppliers on the app which is also a useful extra for your honeymooners.
More importantly it is the most up to date gift list service and travel app on the market and your clients will love it!!!
Why should you consider using it?
It's unique
Offers 100% Financial Protection
Easy to set up & navigate
Holds all documentation
You can add useful links
Data is totally secure
Clients can manage their own list
It attracts new business
You can earn additional revenue
It highlights your company
It's eco-friendly
Looks professional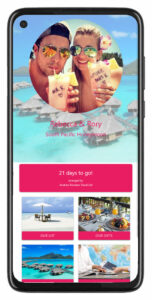 Panndorah Gift List Price Levels
Level
Gift Lists P.A.
£ Per Month
Bronze
20
10
Silver
50
15
Gold
100
20
Platinum
unlimited
25
Prices are ex VAT